Our services
« ETESIAS has a unique realization process; although there are other technologies for the construction of concrete elements with 3D printing, very few applications have been developed for the realization of Reinforced Concrete elements with structural functionality, and moreover with more complex and less versatile technologies ».
In particular, ETESIAS provides the following services:
ETESIAS aims to offer to the market a simple, innovative and efficient alternatives, maintaining the same performance guaranteed by traditional methods of the concrete industry, at a lower costs compared to the market average, using cutting-edge technology in many other industrial sectors that can lead to an increase of productivity, a reduction in fixed costs and a reduced environmental impact.
ETESIAS supplies the know-how to designers, construction companies and in particular manufacturers of prefabricated reinforced concrete elements; the latter in particular can use our technology to activate a new production line of products as an alternative to conventional ones, in order to obtain complex products in terms of shapes, but above all with more advanced mechanical performance being environmental friendly.
In particular, ETESIAS provides the following services:
Intellectual Property (IP) Licensing, with the support provided by ETESIAS in two phases:
- Technical support, from the installation of the system till its use
- Technical training, for the implementation of ETESIAS technology
Technical-scientific support for 3D printing studios and manufacturers of materials, design companies, especially for the realization of custom projects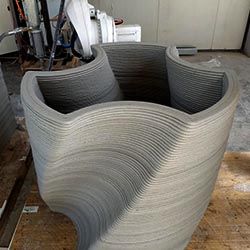 Realization and marketing of prototypes on commission of customers with needs that cannot be satisfied with conventional techniques
Become our partner
Our goal is to make our technology available for the operators interested in innovation, especially for the production of prefabricated reinforced concrete elements
"Innovating the world of civil construction is our priority"
Napoli
Corso Nicolangelo Protopisani, 50
80146
Italy
+39 081 2530236 - This email address is being protected from spambots. You need JavaScript enabled to view it.